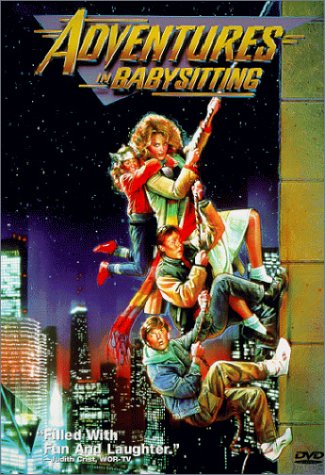 Adventures in Babysitting
is a 1987
comedy film
written by David Simkins, directed by
Chris Columbus
, and starring
Elisabeth Shue
,
Bradley Whitford
,
Maia Brewton
,
Anthony Rapp
,
Penelope Ann Miller
,
Keith Coogan
, and a brief cameo by
blues
singer/guitarist
Albert Collins
. Although it is set in
Oak Park
and
Chicago
, Illinois, with much of the action taking place in the city itself, the movie was filmed primarily in
Toronto
.
Plot
Chris Parker (Elisabeth Shue), a high school senior, agrees to babysit Sara Anderson (Maia Brewton) after her boyfriend Mike Toddwell (Bradley Whitford) cancels their anniversary date. Sara's older brother Brad (Keith Coogan), who has a crush on Chris, decides to stay home and hang around. When Chris' friend Brenda (Penelope Ann Miller) calls from a Chicago bus station, having made a failed attempt to run away from her family, Chris reluctantly takes Sara, Brad, and Brad's sex-obsessed best friend Daryl Coopersmith (Anthony Rapp) from their safe suburban surroundings into the city to rescue her. A flat tire on the highway with no spare and Chris' realization that she has failed to bring her purse launches the group into a series of unlikely predicaments, including detainment by a car theft ring (from which Daryl steals a Playboy magazine filled with incriminating notes), pursuit by the criminals, a blues club where they're forced (by Albert Collins) to sing of their ordeal before leaving, a gang fight on a train which leaves Brad slightly injured (as well as a moment at a hospital where the others are briefly led to believe Brad is dead), and a final incident with their pursuers on the Smurfit-Stone Building in Chicago.
Cast
Production
This was the first PG-13 film released by a Disney film division and was released as A Night on the Town in the United Kingdom. In the scene in the bus station with Brenda, the actor who portrayed the hot dog salesman originally improvised his line as "then I don't have a fucking weiner!" Columbus loved the line, but executives at Disney wanted to keep the picture more family-friendly so the line was removed (although, ironically, the word "fuck" is used twice in the final cut). This scene was added to stretch out the bus station segments. It was not in the original script.
Bradley Whitford, who played Mike Todwell in the film, was actually 27 years old at the time of shooting. He was uncomfortable with the age difference, but director Chris Columbus put him at ease by allowing him to use his own Camaro in the movie. The car is later seen with Whitford's real-life license plate "SO COOL".
The movie's title was parodied in an episode of Disney's television show, That's So Raven, "Adventures in Boss-Sitting" and an episode of The Adventures of Super Mario Bros. 3 as "Misadventures in Babysitting".
Valerie Bertinelli was one of the actresses who auditioned for the role of Chris Parker.[1]
Anthony Rapp and director Chris Columbus would reunite 18 years later for the film adaptation of the musical Rent, which originally starred Rapp on Broadway.
Television pilot
Adventures in Babysitting was adapted into an American television pilot[2] of the same name for CBS in 1989. The pilot starred Jennifer Guthrie as Chris Parker, Joey Lawrence and Courtney Peldon as Brad and Sara Anderson, Ariana Mohit as Brenda, and Brian Austin Green as Daryl. It was not picked up for series.
Sequel/Remake
A sequel is reportedly planned for release in 2010. Stars Raven Symone and Miley Cyrus are rumored to star in the sequel/remake called, "Further Adventures in Babysitting."
---
Source: Wikipedia