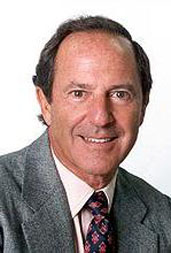 Boston Properties Inc. Chairman
Mortimer Zuckerman
said his charitable trust lost $30 million investing with
Bernard Madoff
.
The money was invested by a fund manager hired by Zuckerman's trust, Zuckerman said in an interview on CNBC today. The manager invested about 10 percent of a $300 million fund with Madoff, an arrangement Zuckerman said he didn't know about.
"These are astonishing numbers to be placed with one fund manager," Zuckerman told CNBC. "I never heard of Madoff. I never met him. I've never done business with him."
Madoff, 70, was arrested Dec. 11 and charged with operating what he told his sons was a long-running Ponzi scheme in the New York-based firm's business advising rich people, hedge funds and institutions. Federal investigators worked through the weekend to unravel Madoff's alleged $50 billion in losses.
Zuckerman was notified about his charity's losses in a letter from the trust's management on Dec. 12, he told CNBC.
"It was a big chunk of money that was intended to go to, shall we say, worthier causes than Mr. Madoff," Zuckerman said. The losses will not keep Zuckerman from making charitable contributions he already promised, he said.
Zuckerman is a billionaire real estate investor who owns the Daily News newspaper in New York and U.S. News & World Report magazine. Boston Properties owns about 142 properties with 46.8 million square feet and has a market value of $6.2 billion.
In June, the company acquired a stake in New York's General Motors Building on Fifth Avenue. Boston Properties fell 39 percent this year through Dec. 12.
---
Source: Bloomberg US