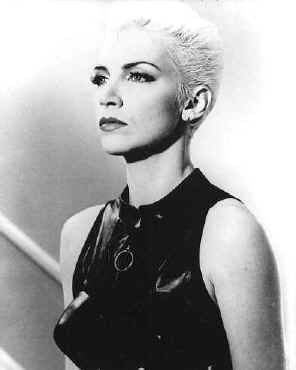 The Annie Lennox Collection paints a vivid portrait in song of the most successful female British artist in pop music history. Available February, 10, 2009 from Arista Records, this 14-song retrospective brings together the acclaimed artist's finest solo work on a single disc for the first time, and includes a pair of new songs available exclusively with this release.
This year the American Music Awards will present Annie Lennox with a special Award of Merit given to some of the industry's most influential artists. Previous honorees include Prince, Whitney Houston, Frank Sinatra, James Brown, Stevie Wonder, Johnny Cash, Paul McCartney, Elvis Presley, Neil Diamond and Gloria Estefan. During the show, Lennox will also give a special performance which will be her first since having back surgery in August, 2008. The show airs live from the Nokia Theatre in L.A. on Sunday, November 23 (8:00-11:00 p.m. ET/PT) on ABC.
Spanning 15 years, The Annie Lennox Collection also available in a Deluxe CD/DVD edition includes hits from her four top-selling solo albums Diva (1992), Medusa (1995), Bare (2003) and last year's highly praised Songs of Mass Destruction. The timeless music selected for this collection uniquely reflects the essence of the singer's instantly recognizable brand of soul music on tracks like "Why," "Walking on Broken Glass" and "No More 'I Love You's'" -- a song that earned Lennox one of her four Grammys.
"It seems like the time has come to release the Collection this year," Lennox says of her first best-of set. "I'm very proud of these songs. They are timeless and have become 'classics' in their own right."
The retrospective also includes two new songs that Lennox recorded specially for this collection. The first, "Pattern of My Life," was written by Tom Chaplin of Keane. The second is a cover of "Shining Light," a song originally recorded by Ash in 2001. "I first discovered this song by Ash about six years ago, and I simply couldn't stop listening to it. It's so exultant that it virtually shimmers," Lennox says.
Among the many highlights on The Annie Lennox Collection is "Sing," a song that references The SING Campaign, a humanitarian organization Lennox founded to raise awareness and support for the AIDS/HIV pandemic in Africa. "We're still in the early stages, but this is a lifelong commitment on my part," Lennox says. "I'm coming out from behind my singing voice to express myself in broader terms and help give a voice to those who don't have the same opportunities as I do."
A dynamic activist, Lennox recently received the Red Cross Services to Humanity Award, the YouthAIDS outstanding achievement award, was named the 2008 Glamour Inspirational Woman of the Year and sang for Nelson Mandela's 90th birthday celebration this summer in London.
In her 26-year career, both as a member of the groundbreaking Eurythmics and as a solo artist, Lennox has amassed sales of more than 78 million albums worldwide. Her towering achievements also include 34 hit singles, four Grammy Awards, 11 Brit Awards and five Ivor Novello Awards. The superstar has also won an Academy Award and Golden Globe.
THE ANNIE LENNOX COLLECTION
Track Listing
1. Little Bird"
2. Walking on Broken Glass"
3. Why"
4. No More I Love You's"
5. Precious"
6. A Whiter Shade of Pale"
7. A Thousand Beautiful Things"
8. Sing"
9. Pavement Cracks"
10. Love Song for a Vampire"
11. Cold"
12. Dark Road"
13. Pattern of My Life"
14. Shining Light"
---
Source:
Market Watch