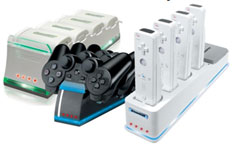 I know I am not the only gamer out there who has a Wii, PS3 and an Xbox 360 with wires and controllers lying around everywhere charging. I have a charger that will charge four Wii controllers at once, and there are several others on the market.
What you don't see a lot of are multiple controller chargers for the PS3, though there are a few, and the Xbox 360. The Wii charger is unique in that not only will it charge four Wii Remotes at once; it also has a spot for charging four AA rechargeable batteries for the Wii Balance Board.
The Xbox 360 charger will hold four battery packs and the PS3 version stacks four controllers in a horizontal line. The PS3 charger is rather wide, but the other two are thin and should be easy to stash out of the way for charging. All three of the chargers are available now for $29.99 to $39.99.
---
Source: Slippery Brick