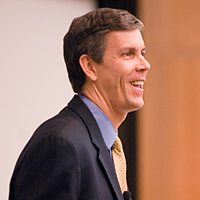 Arne Duncan (born November 6, 1964) is an American education administrator who is the current Chief Executive Officer of the Chicago Public Schools. He is expected to be President-elect Barack Obama's nominee for Secretary of Education.[1]
Early life, education and basketball career
Duncan was raised in Hyde Park, Chicago, where his father Starkey Duncan was a psychology professor at the University of Chicago, and mother Susan Morton runs The Sue Duncan Children's Center for African American youth on Chicago's South Side. Duncan spent a great deal of his free time at his mother's center tutoring children and sharpening his basketball skills with the neighborhood children. Some of his childhood friends were John W. Rogers, Jr., CEO of Ariel Capital Management (now Ariel Investments) and founder of the Ariel Academy, Illinois Senator Kwame Raoul, actor Michael Clarke Duncan, singer R. Kelly and martial artist Michelle Gordon.
Duncan attended the University of Chicago Laboratory Schools. He then graduated magna cum laude from Harvard University with a degree in sociology in 1987. At Harvard, Duncan was co-captain of the basketball team and named a first team Academic All-American.[2]
From 1987 to 1991, Duncan played professional basketball in Australia with the Eastside Spectres of the National Basketball League,[3] and while there worked with children who were wards of the state. While in Tasmania he met his future wife, Karen.
He currently resides with his Australian American wife, Karen, and his two children in Hyde Park.
Education career
Duncan has extensive experience in educational policy and management, but has not been a teacher. In 1992 Duncan became director of the Ariel Education Initiative, a program to enhance educational opportunities for children on Chicago's South Side that was started by John W. Rogers, Jr., and in 1998 he joined the Chicago Public Schools.[4] He became Deputy Chief of Staff for former Schools CEO Paul Vallas in 1999.[5]
Mayor Richard M. Daley appointed Duncan to serve as CEO of Chicago Public Schools on June 26, 2001.[6]
He was a fellow in the Leadership Greater Chicago's class of 1995, and a member of the Aspen Institute's Henry Crown Fellowship Program, Class of 2002. In May 2003, he received an Honorary Doctor of Laws degree from Lake Forest College.
President-elect Barack Obama has chosen him for Secretary of Education. [7]
---
Source: Wikipedia