PHOTO! Here is a picture of Ron and Joy Holiday from "Cat Dancers". Ron and Joy Holiday appear in tonight's HBO documentary "Cat Dancers" along with their adorable white tigers.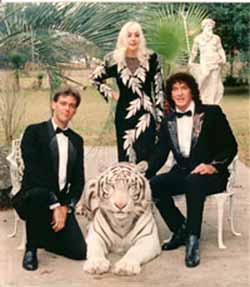 Cat Dancers (8 pm HBO) tonight is from filmmaker Harris Fishman. The story starts with the Holiday's love affair back in Maine, follows them to becoming dancers at Radio City Music Hall, and then how their life changed after being given a leopard cub as a gift, and eventually meeting Chuck Lizza.
Reviews tonight online about the broadcast are very positive, with critics agreeing the show is fascinating, original, and clearly entertaining.
Catch it tonight on HBO.
---
Source: LaLate.com