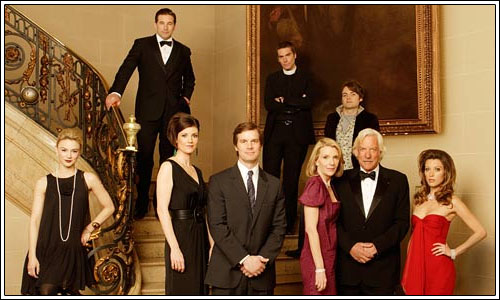 Dirty Sexy Money is an American television series about Nick George, portrayed by Peter Krause. George's whole life has been lived in the shadow of the Darling family, but as an adult he's leading a simple life as an idealistic lawyer, until his father's suspicious death. The wealthy Darlings of New York have asked him to take over his father's job as their personal lawyer, but the money that will allow him the freedom to be an altruistic do-gooder is only part of the picture. That same money pulls him into the dubious doings of the Darling clan.
The series was created by Craig Wright, who also serves as executive producer alongside Greg Berlanti, Bryan Singer, Matthew Gross, Peter Horton and Josh Reims, with Melissa Berman producing. Horton also directed the pilot.[1] It is produced by ABC Studios, Bad Hat Harry Productions, Berlanti Television and Gross Entertainment. The series premiered in the United States on September 26, 2007 on ABC following the Grey's Anatomy spin-off, Private Practice, airing on Wednesday nights at 10:01PM Eastern/9:01PM Central. The series premiered in the UK on March 21, 2008 at 9pm on Channel 4.
On November 16, 2007, ABC ordered a full 22-episode season for the show, making it the first show to receive a full season order since the WGA writers' strike began on November 5, 2007.[2] However, in the end, the first season comprised only 10 episodes due to the strike. ABC picked up Dirty Sexy Money for the 2008-09 television season which began airing on October 1, 2008. [3] Dirty Sexy Money: The Complete First Season, a three-disc DVD set including all 10 original episodes and exclusive bonus features including bloopers, audio commentary, deleted scenes, and featurettes, and more, was released on September 16, 2008.[4]
On November 20, 2008, ABC decided not to order any additional episodes, effectively cancelling the series.[5] [6]
Cast
Principal characters
Recurring cast
Episodes
Reception
U.S. Nielsen ratings
Weekly ratings
| # | Episode | Air Date | Timeslot (EST) | Rating | Share | 18-49 Rating | Viewers (m) | Rank (Overall) |
| --- | --- | --- | --- | --- | --- | --- | --- | --- |
| 1 | "Pilot" | September 26, 2007 | Wednesday, 10:01 P.M. | 7.4 | 12 | 3.6 | 10.44 | #31 |
| 2 | "The Lions" | October 3, 2007 | Wednesday, 10:01 P.M. | 6.7 | 11 | 3.6 | 9.61 | #33 |
| 3 | "The Italian Banker" | October 10, 2007 | Wednesday, 10:01 P.M. | 6.1 | 10 | 3.5 | 8.63 | #40 |
| 4 | "The Chiavennasca" | October 17, 2007 | Wednesday, 10:02 P.M. | 6.4 | 11 | 3.1 | 8.67 | #41 |
| 5 | "The Bridge" | October 24, 2007 | Wednesday, 10:02 P.M. | 6.1 | 10 | 3.3 | 8.56 | #48 |
| 6 | "The Game" | October 31, 2007 | Wednesday, 10:02 P.M. | 5.9 | 10 | 2.9 | 8.38 | #47 |
| 7 | "The Wedding" | November 14, 2007 | Wednesday, 10:02 P.M. | 5.7 | 10 | 2.9 | 7.90 | #51 |
| 8 | "The Country House" | November 21, 2007 | Wednesday, 10:02 P.M. | 4.0 | 8 | 2.0 | 6.52 | #62 |
| 9 | "The Watch" | November 28, 2007 | Wednesday, 10:02 P.M. | 5.0 | 8 | 2.6 | 7.15 | #54 |
| 10 | "The Nutcracker" | December 5, 2007 | Wednesday, 10:02 P.M. | 5.0 | 8 | 2.4 | 6.91 | #54 |
#
Episode
Air Date
Timeslot (EST)
Rating
Share
18-49 Rating
Viewers (m)
Rank (Overall)
11
"The Birthday Present"
October 1, 2008
Wednesday 10/9c
4.8
8
TBA
7.15

[

8

]

TBA
12
"The Family Lawyer"
October 8, 2008
Wednesday 10/9c
4.1
7
TBA
5.85
TBA
13
"The Star Witness"
October 22, 2008
Wednesday 10/9c
4.0
7
2.0
5.86
TBA
14
"The Silence"
October 29, 2008
Wednesday 10/9c
4.1
7
2.0
6.08
TBA
15
"The Verdict"
November 5, 2008
Wednesday 10/9c
TBA
TBA
TBA
6.3
TBA
16
"The Injured Party"
November 19, 2008
Wednesday 10/9c
TBA
TBA
TBA
TBA
TBA
17
"The Facts"
December 3, 2008
Wednesday 10/9c
TBA
TBA
TBA
TBA
TBA
The October 15 episode was preempted due to the coverage of the Presidential Debates.
The November 12 episode was preempted due to the coverage of the 2008 Country Music Awards.
The November 26 episode was preempted in favor over the Barbara Walters interview with Barack Obama.
Production history
Conception
The pilot script, written by creator, executive producer and Emmy-nominated playwright Craig Wright, made its first step towards production when ABC committed to it in July 2006. The project, which is set up at Berlanti Television, is also executive produced by Everwood creator Greg Berlanti, who at the time had recently parted ways with his producing partner, Mickey Liddell. Liddell was replaced by former Sony Pictures Television executive Melissa Berman, who consequently became a producer on the series.[9] The project was named "Dirty Sexy Money" in January 2007 when it received a pilot order from the network.[10] Staffing began in the same month when Emmy-nominated director, Peter Horton, agreed to direct the first hour of the show.[11] The series received an early pick-up and a thirteen-episode order prior to the 2007 Upfronts in New York on May 11, 2007.[12] Josh Reims also joined the production crew as an executive producer in the same month.[9]
Casting
Casting for all but one of the principal roles on the show took place in February 2007. Seth Gabel was the first actor to land a role on the series and was cast as Jeremy Darling, the hard-living youngest son.[13] Gabel had originally auditioned for Greg Berlanti's other television drama, Eli Stone, but didn't receive the part. He left a big impression on the producer nonetheless who recommended him for Dirty Sexy Money instead.[14] The producers found their leading man in Emmy-nominated Six Feet Under alumnus, Peter Krause, when he was chosen to play the role of Nick George, the beleaguered new Darling family attorney. The series reunites Krause with creator Craig Wright, who also worked on Six Feet Under.[15] Glenn Fitzgerald read for the role of Reverend Brian Darling and received the part.[16] Academy Award-nominated actress, Jill Clayburgh, and former Passions co-star, Natalie Zea, made their way onto the show when they were cast as the family matriarch Letitia Darling, and the eldest thrice-divorced daughter Karen Darling, respectively.[17] Samaire Armstrong, known mostly to audiences for her recurring role on The O.C., landed her first regular television role when she was chosen to portray the youngest Darling child, the spoiled aspiring actress Juliet Darling. Zoe McLellan and William Baldwin were also cast in the roles of Lisa George, Nick's loving wife, and New York State Attorney General Patrick Darling, a rising star in politics harboring a scandalous secret.[18][19] Golden Globe winner, Donald Sutherland, rounded out the principal cast when he was chosen for the role of family patriarch, Patrick "Tripp" Darling III.[20] In 2008, after pitching that Lucy Liu was interested in being part of the series, the producers immediately created a role for her as a series regular. She plays the role of Nola Lyons, a powerful attorney that faces Nick George (played by Peter Krause).[21]
On November 10, 2008, TV Guide reported that Rena Sofer will guest-star as an intrepid reporter on the November 26th episode.[22]
Main crew
Jon Harmon Feldman acts as the showrunner,[23] He replaced Daniel Cerone.[24] Other crew members are Craig Wright, Josh Reims, Yahlin Chang, Greg Berlanti, Melissa Berman, Matthew Gross, and Bryan Singer.[25][26][27][28]
Broadcast history
The first season went into production on July 17, 2007,[29] and premiered on ABC on September 26, 2007. So far, the series' time slot has not changed, though Dirty Sexy Money was on hiatus due to the WGA writers' strike as of January 9, 2008, the date on which replacement series Cashmere Mafia assumed the time slot. Men in Trees, which has a total of 11 filmed unaired episodes available, assumed the slot on February 27, 2008, potentially for the balance of the spring season.
International distribution
The show will be broadcast on Turner Network Television in Spain, Studio 23 in Philippines, Dizimax in Turkey and Nelonen in Finland. The series is being broadcast on the satellite/cable channel TNT in Spain since January 2008.[30][31][32][33]
Following its cable TV run, Dirty Sexy Money will air in Spain on commercial terrestrial network Antena 3TV. The series, retitled Sexy Money for the Spanish audience, was due to premiere on Thursday 25th September 2008, opening Primetime at 22.15hrs. However, due to the strong competition on the night, Antena 3TV announced just two days prior to the premiere that the series was being moved to Sunday nights at 2215hrs, premiering on Sunday 28th September 2008. The series has had a high profile marketing campaign, including "Special features" airing as part of some of the channel's top rated programmes.
In Bulgaria the show is running on Nova Television.
In Canada, CTV first aired the show on Sundays at 10 pm (4 days after ABC), then it moved to 7 pm. CTV then moved the show to its secondary A system effective October 24, 2007 where it airs it in simulcast Wednesdays at 10 pm.[34][35]
In Croatia, HRT will start with airing the series in Fall 2008.
In Denmark, TV2 started airing the series in January 2008. The show was cancelled in February 2008 due to low ratings.
In France it will be aired by Canal Plus from October 23, 2008.
In Germany, the pay-TV channel FOX will start airing the first season on October 30, 2008. The show is set to begin in free-TV in the end of 2008 or the beginning of 2009 on ProSieben.
In Italy, the satellite channel Fox broadcasted the series since January 15, 2008.
In Latin America, AXN started airing the series on Tuesdays, beginning February 12, 2008.
New Zealand's TV2 started airing the show Wednesday nights at 9:30 pm, beginning February 6, 2008.
In Australia the Seven Network began airing the show on Monday 11th February 2008 at 9:30 pm.season two began being aired on the 2 on december
In the United Kingdom, Channel 4 began airing the episodes on Friday March 21 2008 at 9:00 pm. Prior to the launch of the show, Channel 4 employed a high profile promotional campaign on multiple channels. The Second season will be expected in early 2009 (around January/February), but the timeslot will be one hour later than season One at 10pm, due to Ugly Betty occupying the 9pm slot. This will not effect "first look" edition on E4 where Tuesday's at 9.00pm will remain as it's slot. It's unclear what will happen with the Sunday encore slot, as Desperate Housewives takes up two hours with an encore slot and a premiere slot between 9.00pm and 11, with Betty airing at 8.00pm encore. Season Two has no official premiere date yet, but the earliest possible date it will restart is July 2009, due to Ugly Betty starting 3 months later than the previous season. Ugly Betty will cover January-June, and it is most likely that by this point Big Brother 10 would have started, and as Friday is eviction night, that would pre-empt the rest of the schedule for that night. Therefore Summer 2009 is the earliest possible start. Like Brothers and sisters the cancellation/lack of interest could mean that the show is put into a different timeslot. Brothers and Sisters once aired on Wednesday's after Desperate Housewives, but was moved to a Monday morning slot of 2.00am. This is just one possibility which may happen with Dirty Sexy Money
In the The Netherlands, NET5 (SBS) started airing the show on Tuesday at 9:30 pm, beginning March 25, 2008.
In Poland the show started airing April 8th on FOX Life. On September 7 it started its run on the pubcaster's terrestrial TVP1, airing Sundays at 8.10pm
In Portugal the first season was aired by TVI.
In Hungary, RTL Klub started to broadcast the show from April 11, 2008. The show airs on Fridays at 10:00 pm after CSI:Miami. The show started very successfully. The first episode had a 31,2% SHR overall and 35% SHR in the 18-49 demographic.
In Sweden the show started airing April 10th on Kanal5 on Thursdays at 9.00 pm.
In Israel, the show started airing on the Israeli satellite TV network "Yes", Monday July 7.
In Hong Kong the show started airing July 17th on TVB Pearl on Thursdays at 10.35 pm.
In Norway the show began airing this fall on TV Norge.
In Malaysia the show started airing on 12th July onwards on 8TV Saturdays 10:30pm.
In Russia Channel One began airing the show on Monday, July 14, 2008 at 11:20 pm. Earlier it began airing in April 2008 on Fox Life Russia
In Ireland RTÉ One began airing the programme on Friday August 1, 2008 at 00:05
In South Africa the show is running on Mnet on Thursdays at 8.30pm.
In Japan the show began airing late fall of 2008 on the Super! Drama channel.
Marketing
Promotion
Using publicity from Paris Hilton's jail sentence controversy, ABC placed full-page advertisements in the Los Angeles Times and The New York Post that read: "We love Paris. The Darling Family." Later, an airplane towing a banner with the same message flew above the downtown courthouse on June 8 during Hilton's subsequent hearing.[36] The network has also placed fake advertisements on popular gossip blog Perezhilton.com on August 6, 2007 "denouncing" the diva-like behavior of Samaire Armstrong's character, Juliet Darling, among others.[37]
DVD release
Dirty Sexy Money: The Complete First Season was released on Region 1 DVD on 16 September 2008. The three-disc collection will include all 10 episodes from the first season.[38]
It was released on Region 2 DVD on 20 October 2008.
---
Source: Wikipedia