Escape to Witch Mountain
is a
science fiction
novel written by
Alexander Key
in 1968. It was adapted into a
film of the same name
by
Walt Disney Productions
in 1975, directed by
John Hough
. A remake directed by
Peter Rader
was released in 1995. Another remake began pre-production in July 2007, set to be directed by
Andy Fickman
. The movie will begin filming in March 2008 and is set to release
March 13
,
2009
.
Novel
The novel written by Alexander H. Key is about two orphans, Tony and Tia, who have moderate paranormal abilities. Tony possesses the ability of telekinesis, though he can access it most readily through playing music, where as Tia can unlock any door by touch as well as communicate with animals. Whilst Tony can talk normally, Tia communicates via ultrasonic speech audible only to her brother Tony (and others of their kind). After their foster guardian, Mrs. Malone, dies, they are placed by social services in a juvenile detention home under grim, unwholesome conditions where Tia befriends a black cat, Winkie.
Both have suppressed memories of their past, but discover a clue — an old road map hidden in Tia's "star case", a leather purse-like box with a double-star design on it. When a man claiming to be the brother of their deceased father shows up at the detention center to take custody of them, they instinctively know he is not their uncle and has ulterior motives. With the assistance of an inner-city Irish priest, Father O'Day, the pair run away, following the map's route leading towards the Blue Ridge Mountains. As their memories begin to return, they realize that they are actually of extraterrestrial origin; their people having come to Earth because their own planet was dying. In the end, Tony and Tia find their way to their own people. When their would-be captor, Lucas Deranian, attempts to interrogate Father O'Day, the priest speaks to the effect that God is capable of creating many worlds and many peoples; that there are mysteries beyond Deranian's "narrow dreaming".
As with most of Alexander Key's stories, the embattled protagonists find that most of the people they meet are untrustworthy, greedy and hateful.
1975 film and sequels
In 1975, Walt Disney Productions released a film based on the novel, also entitled Escape to Witch Mountain. In this film, Tony and Tia were played by Ike Eisenmann and Kim Richards, and Lucas Deranian by Donald Pleasance. The film replaces the inner-city priest Father O'Day with Jason O'Day (played by Eddie Albert), a widower traveling in an RV who helps Tony and Tia get away from their pursuers. New major characters in the film who are not in the novel are millionaire Aristotle Bolt (Ray Milland), Deranian's employer who wants to obtain the children's powers, and Uncle Bené (Denver Pyle), the children's uncle whom they believe to have drowned in a long-ago accident. The film was one of Disney's most successful live-action films.[1]
The film was followed by two sequels, the theatrically released Return from Witch Mountain (1978) and the 60-minute TV movie Beyond Witch Mountain (1982). Director Hough returned for Return, as did Eisenmann, Richards and Pyle, but new villains Letha Wedge (Bette Davis) and Dr. Victor Gannon (Christopher Lee) took the place of Bolt and Deranian. The characters of Bolt, Deranian and O'Day returned in Beyond Witch Mountain, but director Hough did not return, and no actor returned to their roles except for Albert. Beyond was intended as a TV pilot but the proposed series did not occur.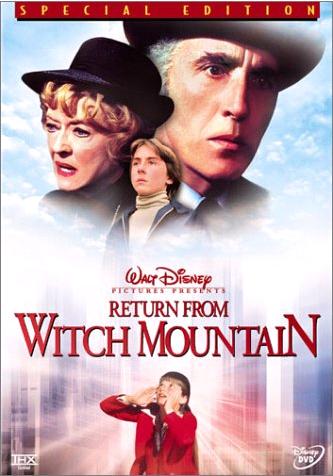 ---
Source: Wikipedia