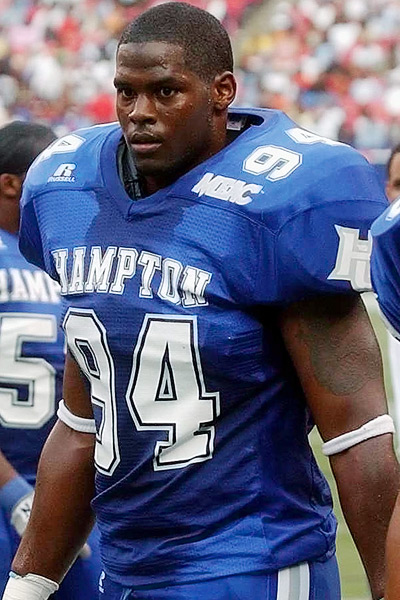 Marcus Dwayne Dixon (born September 16, 1984 in Rome, Georgia) is an American football defensive end who is a practice squad player for the Dallas Cowboys of the National Football League. He was signed by the Cowboys as an undrafted free agent in 2008. He played college football at Hampton.
Dixon is also known for being prosecuted in a high-profile court case when, as a high school student, he was convicted in May 2003 for the rape of Kristie Brown, an underage girl. These charges were later overturned and dropped to statutory rape.[1][2]
Early years
Dixon was a grade A student at Pepperell High School and excelled on the football field to the point where he had been offered a full scholarship at Vanderbilt University, but due to his court case and conviction he was unable to take on this opportunity.
College career
Upon his release from prison Dixon enrolled at Hampton University in Virginia with a football scholarship.[3]
Professional career
Dallas Cowboys
On April 27, 2008, Marcus signed a three-year, $1.1 million deal with the Dallas Cowboys as an undrafted free agent.
Personal
Dixon v. Brown case
Kristie Brown alleged that on February 10, 2003 Dixon forced her to have sex, taking her virginity. She has stated that contrary to Dixon's supporters' belief she was never Dixon's girlfriend and although they shared classes, they barely knew each other. The jury acquitted Dixon of rape, battery, assault and false imprisonment but because Brown was only 15 3/4 at the time of the incident found him guilty of statutory rape and aggravated child molestation. Because of this Dixon was convicted at the mandatory amount under Georgia law, 10 years imprisonment.[4] Ironically if he would have been found guilty he would have faced a much less severe punishment.[5]
Many saw the case as racially motivated, especially when it was alleged by Dixon's partisans that Brown had claimed her father "would kill them both" if he found out because he was a racist. The President of the Children's Defense Fund, Marian Wright Edelman called it a "Legal Lynching". Also, the location of the incident, Georgia, spurred on the thoughts of racist bigotry.[5]
Other alleged events
During the court case the prosecution brought up Dixon's past record, stating that he had been suspended twice from his school for 'sexual activity'. Although neither of these events were reported to the authorities the jury were told that the events were Dixon exposing himself in a classroom and inappropriately touching a 14 year old girl.[6]
Overturned conviction and release
Georgia Supreme Court overturned Dixon's conviction and he was released May 3, 2004. They let his conviction of misdemeanor statutory rape stand.[7] After Dixon's release both he and Brown appeared on Oprah in an attempt to clarify their stories.[4]
---
Source: Wikipedia