The Bad News Bears is a 1976 film directed by Michael Ritchie. It stars Walter Matthau and Tatum O'Neal. The film was followed by two sequels, The Bad News Bears in Breaking Training in 1977 and The Bad News Bears Go to Japan in 1978, and a short-lived 1979-80 CBS television series, none of which were able to duplicate the success of the original. Also notable was the score by Jerry Fielding, which is an adaptation of the principal themes of Carmen.
A remake of the movie, directed by Richard Linklater with Billy Bob Thornton taking the role of Morris Buttermaker, was released on July 22, 2005.
Taglines:
The coach is waiting for his next beer. The pitcher is waiting for her first bra. The team is waiting for a miracle. Consider the possibilities.
At last, a picture of kids as they really are.
A classic comedy about growing up!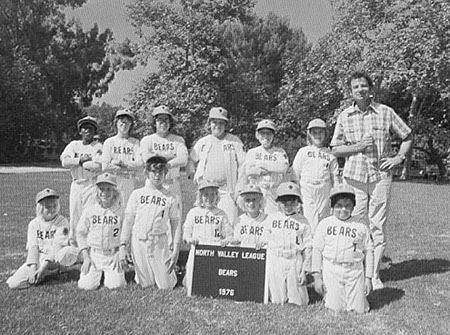 Plot
Morris Buttermaker (Walter Matthau), an alcoholic and former minor-league baseball player, becomes the coach of a cellar-dwelling Little League team, the Bears. He works as a pool cleaning man, while drinking endlessly on the side. He coaches the Bears, a children's baseball team with poor playing skills. They play their first game and do not even make an out, giving up 26 runs before Buttermaker forfeits the game.
Realizing the team is near hopeless, he recruits a couple of unlikely prospects. First up is sharp-tongued Amanda Whurlizer (Tatum O'Neal), a skilled pitcher who is the 11-year-old daughter of one of Buttermaker's ex-girlfriends. Buttermaker also notices the powerful throwing arm of the local cigarette-smoking troublemaker, Kelly Leak (Jackie Earle Haley). The boozing coach recruits Leak, and along with Whurlizer, the Bears start winning games.
Eventually, the Bears make it to the championship game opposite the Yankees, who are coached by aggressive, competitive Roy Turner (Vic Morrow). Buttermaker and Turner engage in shouting matches throughout the game, leading to Turner striking his son/pitcher Joey (Brandon Cruz) for intentionally throwing a wild beanball at Bears batter/catcher, overweight Engelberg (Gary Lee Cavagnaro). Later, Buttermaker changes the lineup, putting the benchwarmers in and taking out some of the good players. The Bears lose the game 7 to 6. After the game, Buttermaker gives the team full reign of his beer cooler, and they spray it all over each other. Although they did not win the championship, they have the satisfaction of trying, knowing that winning is not so important.
Production and Success
The Bad News Bears was filmed in and around Los Angeles, primarily in the San Fernando Valley. The field where they played is in Mason Park on Devonshire Street in Chatsworth, California. In the film, the Bears were sponsored by an actual company, "Chico's Bail Bonds."
The film was notable in its time for the amount of vulgarity (including profanity and ethnic slurs) placed into the mouths of the various child-actors who played the principal roles (specifically, a memorable Tanner Boyle, played by Chris Barnes, quoted as calling his teammates en masse "a bunch of Jews, spics, niggers, pansies, and a booger-eating moron"). However, all of the questionable dialogue was used for comic effect. A true product of the mid-70s, the film includes a now-unheard-of scene where an inebriated Buttermaker drives around the players who are not wearing seatbelts in an open-top convertible.
In his 1976 review, critic Roger Ebert called the movie "an unblinking, scathing look at competition in American society."
Cast
Adults
Morris Buttermaker
Walter Matthau
Coach of the Bears: A drunk ex-professional baseball player.
Roy Turner
Vic Morrow
Coach of the Yankees
Cleveland
Joyce Van Patten
League manager
Bob Whitewood
Ben Piazza
City councilman and lawyer who sued the league to allow the Bears (in particular, his son) to play. He convinces (and pays) Buttermaker to coach the team.
Kids
Ahmad Abdul-Rahim
Erin Blunt
A Black Muslim who plays in the outfield and adores Hank Aaron; strips off his uniform in shame after committing errors, but is convinced to return to the team by Buttermaker.
Jose Agilar
Jaime Escobedo
Miguel's older brother who plays second base; doesn't speak English.
Miguel Agilar
George Gonzales
Jose's younger brother; mostly plays right field. He doesn't speak English either; so short that the strike zone is non-existent.
Tanner Boyle
Chris Barnes
Short-tempered shortstop with a Napoleon complex; after suffering a horrible loss on their first game, he picks a fight with the entire seventh grade from his school (and loses). He tends to curse more than the others, and often insults and bullies Timmy.
Mike Engelberg
Gary Lee Cavagnaro
An overweight, out-of-shape boy who plays catcher; A great hitter, his jabs at rival pitcher Joey Turner ignite a rivalry.
Jimmy Feldman
Brett Marx
Fairly quiet third baseman with curly blond hair.
Kelly Leak
Jackie Earle Haley
Local troublemaker who smokes and rides a Harley-Davidson motorcycle. Also the best athlete in the neighborhood. He alternates between left and center field and has a crush on Amanda.
Timmy Lupus
Quinn Smith
A "booger-eating spaz;" plays rightfield and is considered to be the worst player on the team, but surprises everyone in the final game by making a key play to keep the Bears in the game. He is the most quiet and shy player, but showed the odd ability to properly prepare a martini for Coach Buttermaker while the team was assisting the coach with pool cleaning.
Alfred Ogilvie
Alfred W. Lutter
A bookworm who memorizes baseball statistics. He's mostly a benchwarmer who assists the coach with defensive strategy. A backup outfielder/first baseman.
Rudi Stein
David Pollock
Nervous relief pitcher with glasses who is a terrible hitter; often asked by Coach Buttermaker to purposely get hit by pitches so he won't try to swing. Also a backup outfielder.
Regi Tower
Scott Firestone
Another lightly developed character; has red hair. Plays third, then first base.
Toby Whitewood
David Stambaugh
An unassuming boy who plays first base. He knows about the other players' personalities and at times speaks for the team. Son of councilman Bob Whitewood.
Amanda Whurlizer
Tatum O'Neal
11-year-old pitcher who feels insecure about her tomboy image. She is proven to be a good pitcher. Her mother is Buttermaker's ex-girlfriend.
Joey Turner
Brandon Cruz
The star pitcher for the Yankees. Coach Roy Turner's son. He has a rivalry with Engleberg and regularly bullies Tanner and Timmy. Allows Engleberg an inside-the-park home run, then quits the team after Roy slaps him in anger over a wild pitch.
External links